Jr. Stars and Young Adults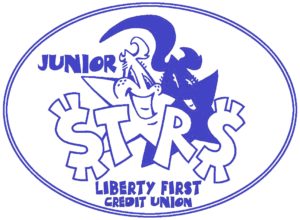 Are you 12 and under? Become a Jr. Star Member today! Liberty First Credit Union can help you save the money you earn to reach all your financial goals. Start your piggy bank at Liberty First and get what you are saving for faster while learning good savings practices.
Want to feel connected with other savers? We host a free event for every Jr. Star member and their immediate family each year. This gives you a chance to meet other savers while enjoying a fun activity. Past events have included a swimming party, a morning at the movies, ice skating, a visit to Memorial Stadium and more.
Basic Savings Account
An opening deposit of at least $5 equals one share at the credit union, establishes your membership, and makes you an owner
A low $5 minimum balance is required to retain the benefits of membership
FREE Jr. Stars Bank at account opening
Quarterly prize drawings – enter every time you make a deposit
No monthly maintenance fees
Dividends are calculated on a daily balance using rate tiers and paid monthly.
Youth Certificate of Deposit Account
Start with as little as $100
Add funds to your certificate at any time during the 12-month term to keep your savings growing
Designed for those 25 and younger
Dividends are compounding monthly using rate tiers and paid monthly.
Contact us at (402) 465-1000 to open your 12-month Youth Certificate and kick start your savings today.